Do you have Phimosis?
If you are an uncircumcised male, and your penis foreskin does not retract fully either when erect and/or when flaccid, you have tight foreskin. This condition is called phimosis. In individuals with phimosis, there is a tight circular band called phimotic band, that acts as a bottleneck and prevents the foreskin from retracting further.
Ultimate Guide To curing phimosis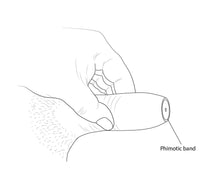 Phimostretch Phimosis Stretcher Rings Kit
One lesser known fact is that if you apply consistent stretching to the phimotic band, the diameter of the phimotic band will progressively increase. When you wear the appropriate size Phimostretch ring under the phimotic band, the band gets consistent passive stretching as long as you are wearing it. With time, the phimotic band will loosen up enough to allow you to move up the ring size, and you continue the same process with the bigger rings.
Science Behind Foreskin Stretching
Phimosis Stretching Progress
The severity of your phimosis depends on the diameter of the phimotic band. Wear the appropriate size ring daily for 30 mins to 1 hour and make sure to apply organic coconut oil on the glans and foreskin, before and after wearing the rings. Within a few weeks and months, you should be able able to fully retract your foreskin with consistent use by moving up rings sizes.
How It Works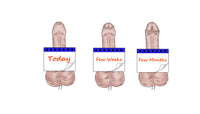 What our Happy customers say
I did not know about phimosis until very late when my new girlfriend found it unusual that my foreskin didn't retract fully. I found Phimostretch rings to be extremely useful to cure my mild phimosis. Highly recommend it.

Mike, Nashville, TN
Completely cured my phimosis. I had extremely severe case where the opening was very small. Started with 4 mm rings and now, at 32 mm, I can proudly say that my phimosis is completely cured!

Praveenth, India
Phimosis was the cause of my extreme anxiety when it came to relationships and sex. My self-esteem was very low before I started looking for solutions. I almost opted for circumcision before coming across the stretching treatment using Phimostretch rings. Now, after 4 months, I can retract fully.

George, Scotland
Notice
These statements have not been evaluated by the Food and Drug Administration. This product is not intended to diagnose, treat, cure or prevent any disease. Phimostretch kits are not sold as a medical device. Effectiveness of Phimostretch kits varies from person to person. This product is only intended for use by those who are 18 years of age or above. Please consult with a medical professional before beginning any type of phimosis treatment.